The Ultimate Guide to Household Storage for a Minimalist Life | StowNest
Declutter your home, your mind, and your life with this ultimate guide to household storage. Learn about the different ways to store everything from clothes to furniture in the most minimalistic way possible.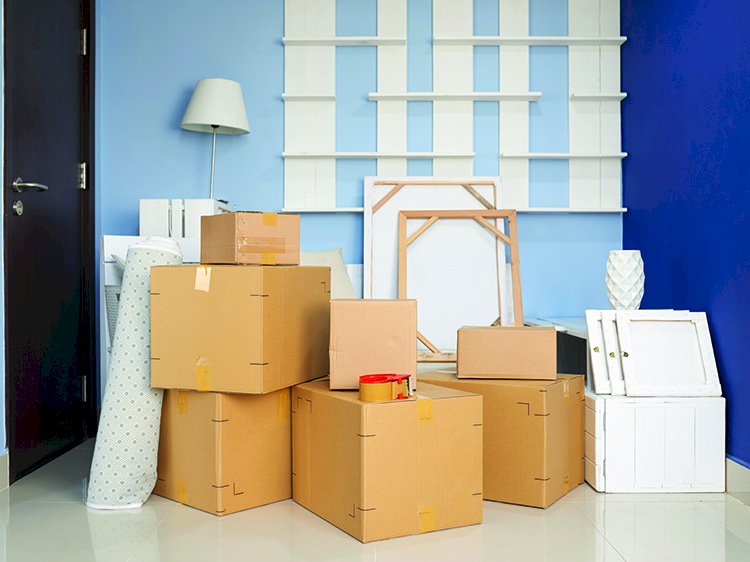 As birds migrate to other places with increased resources, humans also migrate to new places. Moving or shifting to a new location was a challenging task in earlier days. Today, with the help of technology, you have quick access to all your needs. There is no doubt that modern-day humans experience the ultimate comfort and convenience when their lifestyle has changed significantly. They enjoy those ethereal pleasures with just a click of a button from the comfort of their homes.
In this blog, as you read every intricate detail of household storage in Bangalore, plan your storage needs without any stress.
Different types of household storage spaces
Depending on your needs, household storage spaces have categories, namely:
Outdoor storage
Assets like tractors, bikes, cars, and other vehicles can be easily stored in outdoor storage spaces, which are protected by wire mesh to keep them safe and secure.
Indoor storage
This storage facility is available for business professionals as well as homeowners to store commercial or residential items.
Warehouse Storage
The warehouse storage facility is the best choice for storing bulk items, whether residential or commercial. If you are a house owner looking for a temporary store to store your goods, you can make use of a warehouse for household goods in Bangalore.
Prepare Your Checklist Before Household Goods Storage
Packing your belongings like furniture, appliances, electronics, clothing, and décor may look like a humungous task. You do not have to be stressed out when you have storage units for household goods. Planning plays a key role in organizing your household items with ease.
It is recommended that you keep an eye on expensive or precious items before packing them up. There may be cases where you would miss out on a few, or you might have to remember whether you have packed those items or not. Keep those things safe and pack them carefully.
It is wise to keep a checklist to know what items to be packed and label the boxes with details so that it will be easy to track each box without any hassle. Remember, your valuable things need extra protection because they need different packaging
Household Storage Tips When Moving
It is essential that you reserve a storage unit if you know you are moving. Find the best storage unit for storing your belongings. Packing and moving can be time-consuming as well as stressful. Here are some of the important tips you need to consider before you make the right decision:
Declutter those items that you don't need

Dismantle your furniture

Keep an inventory of your things

Categorize all your items precisely

Plan the size of boxes you need

Place your heavy items at the bottom when you are packing

Use the right packing tape to seal your boxes

Pack fragile items with bubble wrap

Label all your boxes

Determine the type of storage unit that is needed
Use all these simple tips to move your things into a storage unit without stress.
What Household Items Can You and Can't Store?
There are a few things you cannot store: food, hazardous items, plants, and animals. Hazardous items could catch on fire or spill, causing damage to your belongings in the storage unit. That is the reason why dangerous items like fireworks, propane, kerosene, guns, and ammunition are not allowed in storage units,
Things like furniture, books, paper, appliances, vehicles, clothing, valuables, antiques, toys, and decorations are allowed in the storage unit facility. It is best to store furniture in climate-controlled units as you don't have to worry about expanding or growing mold.
It is crucial to follow all the rules and regulations of a storage facility. Remember to keep all your important documents and valuable things safe and secure.
Factors to consider when choosing household storage facilities
When choosing storage facilities, it is necessary to know the storage space that the storage provider can offer to store your belongings. Not all storage units are the same.
It is essential that you need to consider significant factors while choosing storage facilities.
Let us delve deep into these factors so that you can decide on the perfect storage unit for storing your items with great ease.
Determine the size of the storage space you need to keep all your items. If you know the size, then it is easy to calculate the cost of the storage unit.
Most storage facilities offer a rent option month to month. You can choose the duration as per your storage needs. There are short-term as well as long-term rentals.
If the storage facility is nearby, you can easily access your items without any problem.
Cost varies based on the factors like storage time requirement and type of contract. Few storage providers will require a minimum storage time frame.
While you are looking for a storage facility, determine whether they have 24/7 security or in-person surveillance to keep your things safe and secure.
Easy accessibility and convenience
Some storage units are open 24/7 if they are self-service. For a full-service option, the accessibility is limited. Choose as per your storage requirements.
Useful Features for Household Storage
Security plays a key role when it comes to storage units. It should be a high priority for both you and the storage provider. At StowNest, there are top-notch features that are beneficial for you. They are as follows:
Flexibility

Convenience

24/7 Security

Centralized monitoring system

Ample lighting

Short and long-term storage needs

Intruder alarms

Personal self-storage space

Cost-effective storage space

Pay for what you use
We offer on-demand, damage-free, safe storage space and easy access to your belongings. There is nothing to worry about, as your items are in safe hands. So, you can relax knowing that protection is our promise.
Are you worried about scheduling and moving to a different place in Bangalore? When there is hassle-free storage with move-in help at StowNest, there is nothing to worry. So, fret not! We provide the best household storage services for you and your family. Just relax as we protect your belongings and monitor them 24/7. Rest assured that you are certainly in the hands of the reliable company, StowNest. If you are moving to a new house or going to travel to a new city in India, declutter, sort, and organize everything you want to store. Hiring a professional team from StowNest is the best solution to store all your belongings easily.
These simple tips will help you to explore the best storage facility in Bangalore. At StowNest, there is ample storage space for rent in Bangalore. There is a storage space of 15,000 square feet to help you with household storage needs. The storage unit in Bangalore is monitored 24/7 with CCTV coverage.

There is insurance coverage for your valuable items. Our rental storage services are cost-effective. We provide doorstep pickup. StowNest provides recommendations for movers. The movers will carefully unload your storage from their trucks and organize your items to be stored safely and efficiently. Connect with us for the safe storage of your household goods in Bangalore!
What's Your Reaction?