General Tips for Document Storage | StowNest Storage
Discover some useful tips and best practices for document storage, including organization, digitization, security, and more.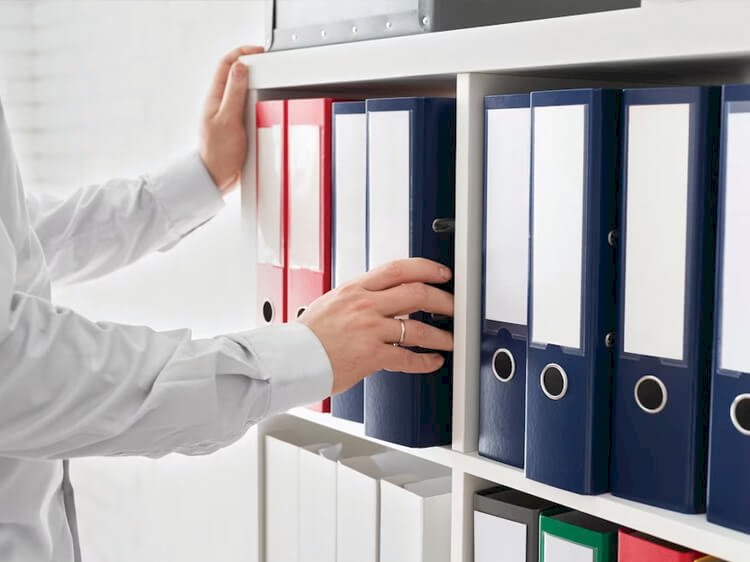 General Tips for Document Storage
Have you ever kept someone waiting while you were searching for files on the desk? Or struggled to meet a deadline as you have lost an important file? When you work with documents, it is important to make it organized and accessible. This way you can save time searching for things, and have the right information in hand when you need it.
Effective file management is one of the most important skills that everyone should have in their workplace. File management tips will help you stay organized and declutter your desktop.
Store your documents with accessibility in mind
Keep your essential paperwork in an easy access spot that is out of sight for guests. Install built-in cabinets and filing cabinets to keep track of important documents and other papers you'd like to keep. Organize your files with labels and take time to sort out all the documents into appropriate sections. In addition to storing documents safely,
Store documents in a stable environment
Paper will deteriorate if kept in places which are too hot, and humid and when uncontrolled access to pests and insects. In practice, places where documents should not be stored are basements (too humid and danger of pests) and lofts (too hot in summer and danger of pests).
Do not overfill boxes
While archiving documents, the common mistake that we make is to stuff things as much as possible and close it. This results in a bulge on the top. This makes it difficult to stack the boxes one over the other. The stacks would be unstable as the surface on which each box stands are not flat. At the same time, it is also important not to underfill the boxes, since the unfilled top section of each box may collapse under the weight of the boxes arranged above it.
Make sure you store documents in a cool, dry place
To keep your documents in a good condition, try to store them in a cool, dry place. When you live in a place with a humid climate use a dehumidifier to control the humidity of the storage space. If you are storing off-site, check for any signs of dampness in your storage space.
Keep track of when your documents can be destroyed
Archiving documents is important so that you have evidence such as receipts and payslips. Once documents are a few years old, they no longer need to be kept.
While archiving documents, label them with a destruction date, from which they will no longer be needed. This will ensure to keep out of date documents aside and use your storage space efficiently.
Ensure documents are stored securely against theft
The physical security of the building is very important. Use good quality locks, put metal doors, bars on windows, maintain a proper alarm system, and have a regular check on unauthorized entry. You should also have the control over who the people who enter the premises, and do not allow visitors to have unsupervised access to the store.
Another important thing to be noted is to maintain confidentiality regarding the location, content and identity of the store.
Protect your paper documents from wear and tear
If you don't want your documents to get damaged, you must think about wear and tear. However secure they are stored, they still become damaged from excessive sunlight, and exposure. So, place them inside plastic bags to reduce the risk of wear and tear.
Birth certificates, newspaper clippings and other documents may be the items you wish to preserve for many years. If documents are neglected and left as it is, they get deteriorated and be lost forever.
So, follow these tips to ensure long term preservation of documents.
Carefully remove paper clips that cause rust stains, and rubber bands that will deteriorate and damage paper.

Store papers flat.

Rolled papers may become difficult to unroll later, and folded paper will tear along the folds.

Boxes and folders should always be of good quality. When purchasing storage materials, search for terms that indicate stability such as low-lignin and lignin-free.

Use archival folders to organize documents.

Stable plastics made of uncoated polyester film can also be used.
Keep documents away from the risk of fire
Storing documents in any place which is hot at certain times and exposed to direct sunlight has a risk of fire. Keeping things in lofts is also dangerous in this regard.
Create a searchable storage space
If you stack many boxes in a room, without sorting them into different categories, you are likely to experience trouble finding each one in the future. The best option is to label each box.
Make sure they are safe from natural disasters
If you are storing important documents in-house, make sure that you protect them from the risk of natural disasters. Keep them elevated and at the top to protect them from flooding and choose a fireproof container if possible.
Label boxes properly
It is important to ensure that you have given a clear, and prominent label for easy identification.
Consider bank safe deposit boxes if storing documents off-site
There are many options to store documents off-site. You can store them outside your home such as a safety deposit box. Banks may give a discount on safe deposit boxes, if you're an existing customer. This option can be a good solution if you are likely to store a small number of documents. For more safety, store them electronically and create a backup online.
Think about your storage box materials and design
If you choose to store your files in storage boxes, choose a material that is durable and hard-wearing such as metal, or plastic. It would be better to stackable boxes, if you want to utilize the maximum of your storage space.
Catalogue the contents of each archive box
Saving documents on a shared system is the most common way to have accessibility to company documents. But, it works only if it is organized. That's the reason why companies maintain a catalogue system. It is designed to ensure that all documents are stored in the right order for easy retrieval. When you categorize documents by date, and department, you'll make sure that the documents are in the right boxes.
Everyone has important documents right from birth certificate to bank documents, which has to be kept safe. These documents are crucial when there is an emergency, or disaster. So, with some planning and organization and storage tools, you can keep all the documents in one safe place.
If you need the ideal storage space for keeping your important documents, you may choose Stownest. We are one of the reputed document storage companies in Bangalore. We also provide commercial storage units to keep your documents safe from moist weather and humidity.
What's Your Reaction?