A Complete Checklist for Relocation | StowNest
Relocating can be overwhelming, but it doesn't have to be. Use this comprehensive checklist to make sure you cover all the bases before you move.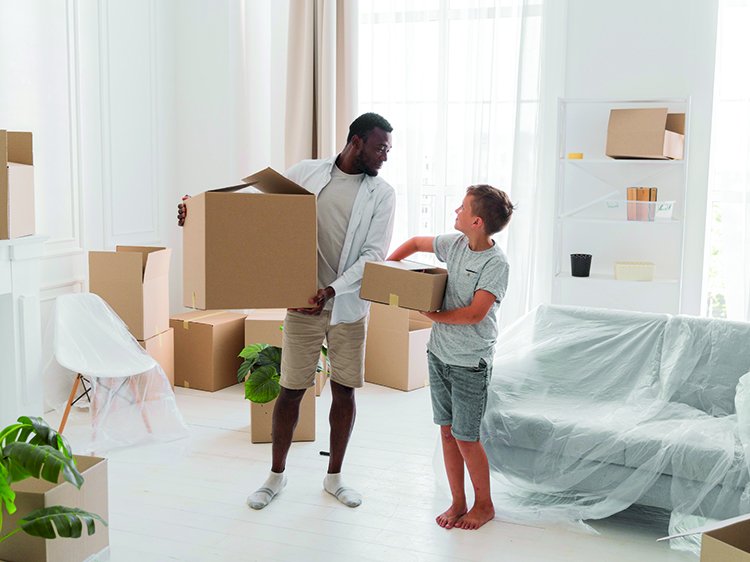 A Complete Checklist for Relocation
Relocating to your new home is always thrilling. The exhilaration of meeting new people and visiting new places can create a spark of excitement. However, preparing for it and moving houses can be stressful; no day requires this much planning and organization as moving day itself. Therefore, we have brought you a list of things to do before moving into a new house.
8 Weeks Before
Begin your preparation as early as possible. 8 weeks is a must.
Research Movers
Now is the perfect time to decide whether you need a professional mover for your big day. Hiring a mover is the right decision to ensure the safe moving of your goods. Therefore, it is essential to be prepared for them beforehand. Start investigating moving companies that come under your moving budget. Additionally, get in touch with the companies and ask for the average estimates to give you a clear idea.
Visit Your New Place
Before moving in, you must have an in-person experience of your new place and the community. Visit the area and neighborhood for better logistics understanding. Make notes of the maintenance and amenities of your area, such as the service elevator.
Prepare a Budget
Prepare a budget and set aside some cash in hand. Having cash in hand makes the relocating process easier. If you are moving for work, consult your company whether they will cover all or just a part of the moving expenses.
Get Rid of Unwanted Goods
Sort and purge your home for all the unwanted items. Get rid of items you won't use in your new home to simplify the relocating process. Make a list of items which will require special packing or extra insurance.
Hunt for a Good Schools
You may need to search for new schools near your new locality if you have kids. Prepare your kids' old-school records for the transfer process.
7 Weeks Before
7 weeks before the moving day, start informing your family and friends about the shift and
Talk to Friends and Family About The Move
Keeping close track of your family and friends about the move is essential. If you have kids, inform them about the move and tell them what to expect.
Book a Truck Rental
Those who are on a DIY move instead of hiring professional movers need to start looking for a truck on rent. Moving day will be easier if you have a truck ready to carry the things needed in a new house.
Storage Unit
A storage unit is perfect for managing your clutter of items if you move to a new home. Check out Stownest, we are one of the leading household storage services in Bangalore to ensure better storage and safety of your belongings.
6 weeks Before
6 weeks before moving day, it is perfect to plan out the move-in day and make some decisions.
Schedule the Movers
Finally, it is time to schedule the movers to help you on your big day! Be mindful while picking up the date, as it will affect the cost of your move. The moving charges can be high during the peak move-in season (May to September).
Order Supplies
Order all the packing supplies, such as boxes, tapes, bubble wrap, and permanent markers, Don't forget to order speciality containers for all valuable items.
Create an Inventory
Create an inventory of items that you need to pack. Make a list of household items for shifting. It will ensure easy management of goods during the move.
Make Your Travel Arrangements
Making prior travel arrangements will make your move trouble-free. Making hotel reservations and booking air tickets ahead of time will give you peace of mind.
5 Weeks Before
5 weeks are perfect for focusing on packing your items for the move-in day.
Strategise Your Packing Process
Before boxing up your items, plan the packing process, including the packing timeline. Pack all the non-essential items first. You won't need these items in the following weeks, like books, home decor, etc. Pack all the essential items last, including kitchenware, clothing, and toiletries.
Donate Possession
Donate all the items which are of no use or are non-essential. You can call any local NGO.
Start Using Up Refrigerated and Pantry Items
Unless you are planning on bringing food, it is advised to use up all your refrigerated and pantry items or donate the perishable items to an NGO or people in need.
4 weeks before
Now that you are one month away from your new home. Use this time to finalize all your documents and dispose of things you won't be bringing with you. Follow this relocating checklist for better organization.
Buy Moving Insurance
Commuting all your items safely is the priority for every professional mover. However, there might be some incidents of lost or broken items. In such cases, purchasing moving insurance will help cover all such items.
Start Packing
It is always early enough to pack! Start packing all the items you infrequently use, like a waffle iron. During packing, look for fragile items that need extra care; such items may need additional insurance coverage from the moving company to ensure any loss during transportation.
Labelling
Correctly labelling the boxes can go a long way in making the organization effortless. Start to label the boxes and number each box with its content to keep track of your inventory. Pack and label the boxes as "essentials" for the items you need immediately.
Find a new doctor, dentist
When moving to another city or state, you may need to look for a new doctor or dentist in your area.
3 Weeks before
3 weeks will fly quickly. Use this time to do minimal yet important tasks.
Arrange for a childcare
Moving in with kids can be a daunting task. Therefore, arrange a babysitter to watch and care for your kids on a moving day.
Transfer Utilities
A few weeks before the moving day, transfer utilities, including cable, internet, water, sewer, gas, and electricity. If you are relocating within the city, then transferring utility is feasible. However, moving to a new area needs to search for utility companies and scheduling an installation date.
Take Care Of Plants
If you are moving to a long-distance place, find a new home for your plant. You can give the plants to your friends, family or garden.
2 weeks before
You are almost there, just a few days. The last week should be spent taking care of all the minor details before the moving day. Go through our moving into a new house checklist
Create a Folder For Bills and Receipts
Make a separate digital folder for all your bills and receipts. Store the essential moving-related documents in a separate folder. Also, keep a record of bills and receipts that are tax-deductible
Notify Service Providers
Notify all your service providers, like milkmen, housekeeping, gardeners, etc. They should be informed in advance if you do not need their services. Clear out all the dues with them.
Refill Prescriptions
Stock up on your prescription, which you'll need for the next couple of weeks. Consequently, transfer your pharmacy prescription to a pharmacy near your new locality.
Pack Your suitcases
Pack suitcases for everyone in the family with enough clothing items a week before the moving day. You must also pack all general items like toiletries in a separate bag which is accessible.
1 Week Before
Just one week before moving day! Use this week to finish all the leftover tasks.
Clean Old Home
Before leaving the old home, clean it thoroughly to ensure no extra cleaning charges are imposed against your security deposit.
Run Last Minute Errands
Finish all the last-minute work that might pop up before the moving day. These include picking up laundry, returning items to friends, and clearing dues.
Take Care of rash Removal and Recycling
Before moving to a new house
Day Before
Finally, it is time for the moving day. Organize all your belongings, and do a last-minute check.
Get Rid of Leftover Food
Get rid of all the leftover food from the fridge and plug it off to let it defrost.
Cancel or Redirect Pending deliveries
Make sure you cancel or redirect all the pending deliveries to your old address and have them forwarded to your new address.
Final Walkthrough with the landlord
Take a final walkthrough with your landlord to ensure everything is in place and also finish off any dues which might be pending.
Withdraw Cash
Keep cash in hand for easier use(for example: tipping the movers) and keep track of it.
Moving Day
The moving day is here! The whole process should be like a breeze if you have followed our moving checklist. However, it is important to start moving early.
Verify
Confirm that the moving truck you hired is from your selected moving company. Be aware of scammers.
Keep a Note of the Inventory
Before starting with the moving, sign the bill of the inventory list and keep a copy of it.
Select which boxes and items are last to load
Keep track of your inventory. Set a priority for the items to be loaded first and last, depending on their value and necessity.
Last Check
Check for all the closets and cabinets to ensure you are not leaving any important things behind.
That's it!
That should be everything you need to know before relocating to your new home. Was it helpful? Do let us know. In case if you need storage solutions for keeping your belongings for a particular period of time, then do contact our team by calling +91-80888-87750 or write to contact@stownest.com
What's Your Reaction?