Business Storage Facilities - The Ultimate Guide to Business Storage | StowNest
Find out everything you need to know about choosing the right business storage facility, from pricing to security measures. Storing your business assets can be a hassle, but this guide will make the process easier.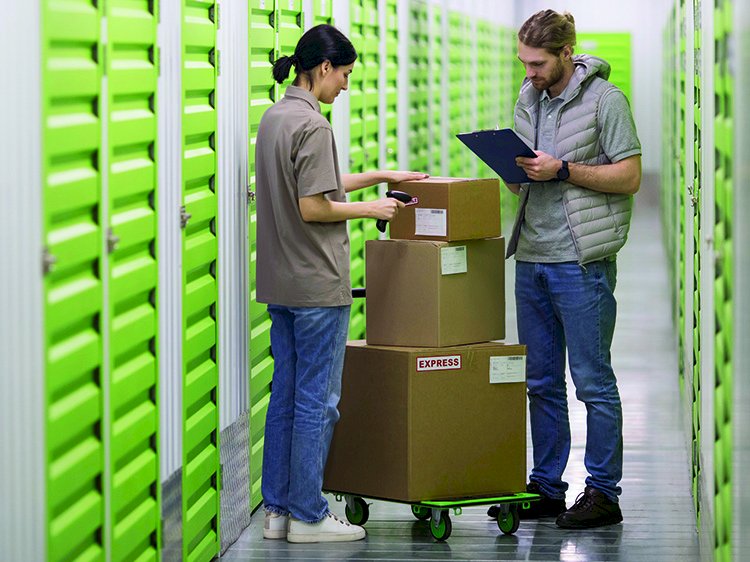 Every firm is continuously striving to improve efficiency and find ways to increase profits. But as the company expands, more space will be required. You'll need commercial storage for your valuables sooner rather than later, and you could even need to hire a property management firm.
But why do companies get helped by self-storage facilities? What specifically can you use them for, too? Today's article will offer a definitive approach to business storage.
The Fundamentals of Business Storage
Various commercial, manufacturing, and professional business kinds may have varied definitions of what "business storage" is. It might include getting additional inventory space and warehouse storage, a handy location to store a work truck, a secure place to store papers, etc.
Anyone who needs economical storage in a safe, up-to-date facility, including attorneys, eBay resellers, plumbers, HVAC contractors, manufacturers, and food truck owners, may profit from it. Whatever your field of work, self-storage provides an affordable way to help you manage your company more profitably and successfully.
Upon considering business storage, ask yourself the following questions:
Do you have a lot of inventory and paperwork?

When you drop by, will you need space for a desk and chair to work on emails?

Do you need shelving for your inventory?

Will you be working on your cartwheels?
Techniques for Using Storage for Your Business
No fantastic business is fantastic enough until it takes the unpredictable into account.
You may utilize storage for your company in the following ways:
Business Owners Can Maximize Their Workspace
Small company owners and entrepreneurs might keep part of the inventory related to their enterprise in the additional space offered by a storage unit. They can store the prior items in that room in self-storage if they opt to set up their work within their house.
Legal and Medical Experts May Maintain Records and Files Outside of the Office with Ease
Initially, you may rely on file cabinets, but as the drawers fill with more and more paper, they might proliferate and begin to take over your essential workspace. Consider putting them in self-storage.
Retailers Can Control Excess Supply
By providing storage space for things that either don't suit the shelves or have to wait to get shown later, counting on that extra rear pocket to keep extra merchandise will help control your day-to-day activities.
You work in fields that need varying quantities of storage space, such as interior design, staging, or real estate.
What You Can Keep
Many company owners save a variety of papers in storage containers. These consist of tax records, pay stubs, memos, news articles, etc.
A storage container is a fantastic place to save honors, diplomas, expired licenses, and business photos. To arrange your archived data, you might start by making a minor investment in boxes.
Storage units have a variety of uses for construction companies. They may hold tools, extra supplies, and even trash. It's frequently advantageous to have a storage container on hand at a building site.
The usage of storage facilities is popular among many repair specialists. These are also excellent choices for disposing of rubbish, supplies, and tools. These can be stored at the repair site and then brought to your place of business as needed. You may utilize a storage unit as a factory for your merchandise if you run an online store.
Reasons why Companies Ought to Use Storage Facilities
Renting a storage container is a good idea if you want to clear up your workspace. A self-storage facility may be utilized to store extra furniture, business and client documents, seasonal goods, excessive inventory, and marketing or marketing materials. Before you plan on getting a warehouse for rent in Bangalore here's what you should know.
The Reasonable Cost
Renting a storage container may often be far more cost-effective than moving to a bigger space. A 10' by 10' storage unit (100 square feet) may cost $100 per month*, yet the same amount of space in an office or retail setting would get estimated at $32 per square foot, or $3200 each month, excluding relocation expenses, additional building costs, and other ancillaries. You may prepare for annual events and adjustments with month-to-month leases without committing to a lengthy agreement.
The Options with Selection
Small 5' by 5' storage units, which are perfect for many boxes, are available in a variety of sizes, as are medium 10' x 10' units for periodic inventory and even bigger 10' by 30' units for warehouse purposes.
Drive-up storage facilities, which allow for easy loading and unloading from the side of the car, are the most popular choice among business clients. Climate-controlled storage spaces are available at several of our locations to shield your belongings from the degrading effects of humidity. There are also indoor storage spaces available, which have the benefit of keeping items protected from the weather. Storage areas frequently provide alternatives for indoor, covered, and outdoor car storage.
Efficiency & Convenience Matter!
Storage facilities are built with spacious entry spaces and broad drives for convenient access. Drive-up storage is available at conventional facilities. Indoor storage containers often include broad aisles for easy access and truck-accessible baggage carts and docks. To give access even simpler for you, facilities also provide hand carts that you may rent.
Additionally, all of our clients have daily extended gate access hours from 6am to 10 p.m. since we understand that time and money go hand in hand. It allows you to get to your unit whenever it is most convenient for you.
Protection and Confidentiality
Store Access to the amenities in space gets restricted by a secure PIN, and they are either completely contained or totally gated. Both interior and exterior spaces have automated sensor lighting and are well-lit. The premises are always getting watched by digital security cameras. Regular facilities audits and staff tours get conducted.
By choosing a safe storage facility, you may avoid having to store your goods at home or leave your work car parked on the street where they may be vulnerable to theft or damage.
One size does not fit all. This is why every business storage solution should be taken seriously. Every business need is different and only the right storage can make things easier for you and your business.
Some of the factors you must keep in mind before choosing the business storage units are:
Size factor- It is imperative to find the right size for your business storage space. The storage solution should be capable enough to fit all your necessary stuff. Select sizes depending on the number of things you need to store. That way you will be able to know the approximate quote of the storage space service provider.
Always make sure you have some extra units for the future. Your business requirement might change and you may require adding extra spaces. Choosing very small storage units is not a smart idea. For hassle-free and smooth business storage solutions, you must get in touch with a reliable business storage service provider near you.
Security matters- one must never compromise with the safety factor when it comes to business storage. Always go for commercial grade storage that can promise ultimate safety and security with 24/7 monitoring. No one wants to compromise on safety as one mistake can ruin your entire business. Discuss with the storage space service provider and learn about their safety protocols before you decide to shift your business items.
Ideal location- One of the most crucial things to take into consideration is the location of the business storage space. A well-accessible place is always the ideal choice. You don't want your warehouse storage to be far away from your business place.Especially, if your business requires you to regularly visit the warehouse, it should be nearby to help you save your time.

If you need the ideal business storage space, you may opt for Stownest. We are the one-stop destination offering warehouses for rent in Bangalore to stock products and keep tabs on them. Moreover, we at Stownest also provide commercial grade storage units that can keep your crucial stock safe from moist weather and humidity.
Our smart logistics service provider offers fast pick-up and delivery services within the city. So you just have to relax and experience quality facilities.
What's Your Reaction?