The Ultimate Guide to Furniture Moving and Relocation | StowNest Storage
Get all the essential tips and tricks for furniture moving and relocation in this ultimate guide. From packing to transportation, we cover it all.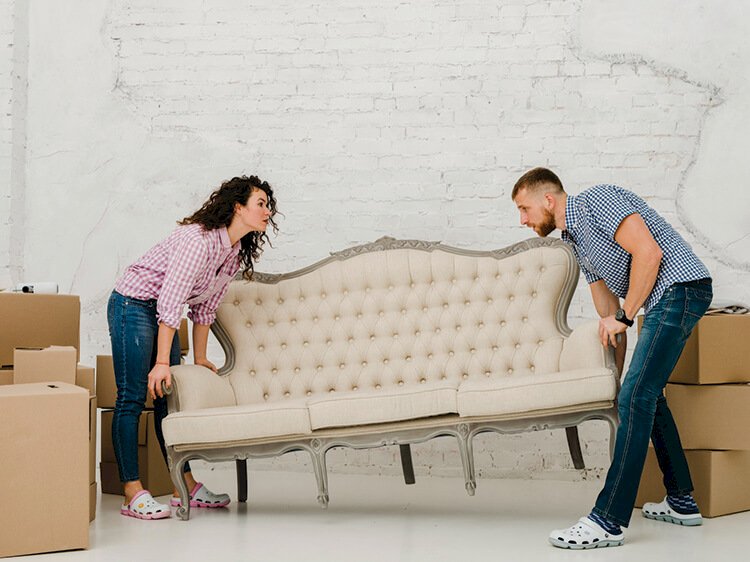 All you need to know about furniture before moving/relocation
Moving things from your home is a stressful job without having to worry about breaking something. The physical relocation of furniture pieces is one of the toughest jobs to do while moving. Whether you are moving across cities or across the country, your furniture needs to be safely packed and protected during the trip. There are certain things you can do to ensure that they stay intact while loading, during transit and unloading. Here are some tips to avoid any damage to your furniture during relocation.
How to protect your furniture while relocation
All items, once packed and loaded will be transferred to the specified destination and in the control of the over agency. You will not be able to re-check or re-arrange the packed goods. Here are some steps to prepare for the shift.
Declutter old furniture
One of the best ways to protect furniture is to disassemble some of the heavy pieces and wrap the dismantled bits separately. Remove all the glass elements and wrap them in thick blankets. Keep all the fastening elements like bolts, nuts, screws, and washers in a separate sealable bag. Protruding parts such as legs, arms and attachments should be removed.
Plan furniture placement in your new home
If you have measurements for your new home, draw a rough floor plan. Once you have drawn a layout, you can start deciding which furniture can be filled in a particular space. Choose the furniture that fits the space and store the rest.
Gather packing supplies
Moving from one place to another is not an easy job. It involves a lot of planning, preparation and execution. Make sure you have the right quantity of packing materials such as
Bubble wrap

Thick blankets

Cardboard sheets

Packing tape

Sofa and mattress covers

Ziplock bags
Clean your furniture for packing
Take time to clean and dust your furniture before moving. Dirt and grit may scratch your furniture while loading and unloading. Make sure all surfaces are completely dry before wrapping. Cleaning your furniture before moving will prevent scratches in them.
Disassemble large furniture
Large furniture pieces should be disassembled into smaller pieces as they may be easy to carry. Steps to be followed while disassembling furniture are
Follow the manufacturer's instructions for dismantling and re-assembling them.

Ask someone from the furniture store to help while dismantling.

Keep all the screws in labelled plastic bags.

Take pictures of each step while dismantling. This will help you while re-assembling.

Packing tips to move your furniture

Protecting your furniture from damage during transportation is very important.

Bubble wraps can keep your furniture safe.

Use thick blankets to pack heavy pieces of furniture.
How to protect furniture in storage
While storing furniture, protection from extreme weather conditions is very important. If you are serious about storing your furniture for a longer period of time, you can opt for a climate-controlled storage unit. It ensures that your valuable furniture is protected from changing temperatures. Wooden furniture, antiques, and instruments can be stored in this way.
If there is no option of a climate-controlled storage unit, then one of the easy steps to protect furniture in storage is to dust them. Make sure it is properly cleaned and dry. Never store furniture if it's dirty. Cleaning will reduce the chances of mold formation and dust in your storage space.
Another important step to be remembered during the storage process is to wrap the larger pieces of furniture. Make sure everything is completely covered inside your storage unit. Before putting anything inside your storage space, lay down a plastic sheet on the floor, to prevent moisture from the floor seeping into the furniture.
How to wrap furniture for moving?
Knowing how to properly wrap furniture while moving is important to keep them free from scratches.
Couches
Use a plastic wrap or furniture cover to protect your couch and layer it with blankets to keep it safe while travelling.
Wooden Furniture
Cover them with a piece of bubble wrap or sheet of paper and place a piece of cardboard under the furniture legs to prevent contact with the floor.
Drawers
Remove all the drawers from the tables and fill them with small pieces of wood. Then wrap each piece tightly, so that nothing falls out.
Some reasons why you should rent instead of buying furniture are
If you're moving, then organizing your furniture becomes difficult. So, it is better to rent furniture especially, if the move is not permanent. Renting a furnished house will be better.
Having multiple homes
You may have a townhouse, or a vacation home near a beach means that you will stay there for a short period of time. You might also have an idea of temporary rentals. In that case, you can use rented furniture.
You don't wish to buy
Buying requires a lot of money and you may not be ready to make such a big investment. And also finding the right furniture might consume time and energy. So, unless you wish to own furniture, you can rent them.
Do's and don'ts when packing furniture while moving
Protecting your belongings while moving is the most crucial task so that they arrive in the new home in the exact condition in which they have left the old home. Packing your furniture well means protecting them against damage during the transit. Packing furniture becomes complicated because of its enormous weight and size. So, here are some do's and don'ts of packing furniture when moving.
Do's when packing furniture
Create a checklist of all the furniture in your home.

Clean your furniture before moving.

Inspect all the furniture items for any sign of damage prior to packing.

Gather all the required materials for packing furniture.

Remove all the items from inside the furniture to make the packing easier and safer.

Disassemble the larger pieces of furniture.

Consult the instruction manual while disassembling complex furniture.

Protect the furniture corners by placing thick pieces of cardboard.

Keep the legs of the furniture protected at all times. If that is not possible, bubble wrap them.

Secure the parts that might get opened during transport.
Don'ts when packing furniture
Don't use bubble wrap over delicate pieces of furniture.

Don't pack furniture items which are too old.

Don't leave unprotected areas on your furniture.

Don't rush through the packing process without assessing whether you can manage it without professional assistance.

Don't start the furniture packing process without having the necessary packing materials for moving furniture.
If you are looking out for warehouses for rent in Bangalore to store products , we are a one stop solution for that. If you need an ideal storage space, choose Stownest. We also provide commercial grade storage units that keep your furniture safe from climatic changes.
What's Your Reaction?