Maximizing Efficiency and Organization in Your Warehouse Storage Facility
n today's fast-paced business environment, efficient warehousing has become more critical than ever. A well-organized warehouse storage facility can significantly impact your company's overall operations, from reducing operational costs to enhancing customer satisfaction. In this blog post, we'll explore strategies and best practices for optimizing your warehouse storage facility to maximize efficiency and productivity. Proper Space Utilization One of the fundamental aspects of warehouse management is optimizing space utilization. To make the most of your available space, consider implementing these strategies: a. Vertical Storage: Utilize vertical space by installing tall shelving units and mezzanines to store goods efficiently. This not only maximizes storage capacity but also allows for better organization and quick retrieval. b. Slotting: Employ slotting techniques to assign the most suitable storage locations for different products based on their demand and size. This mi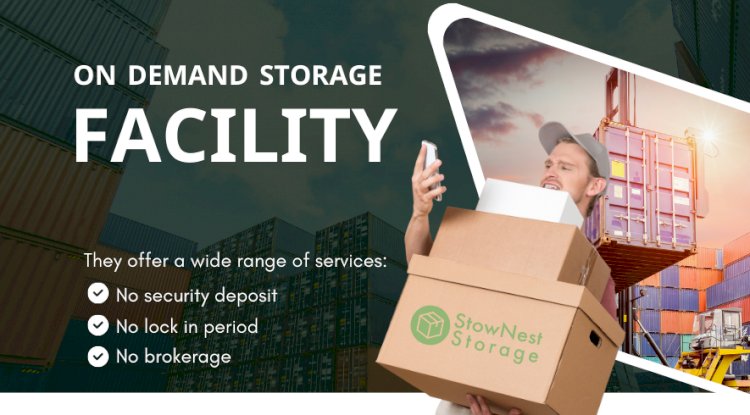 Proper Space Utilization
One of the fundamental aspects of warehouse management is optimizing space utilization. To make the most of your available space, consider implementing these strategies:
a. Vertical Storage: Utilize vertical space by installing tall shelving units and mezzanines to store goods efficiently. This not only maximizes storage capacity but also allows for better organization and quick retrieval.
b. Slotting: Employ slotting techniques to assign the most suitable storage locations for different products based on their demand and size. This minimizes travel time for employees and enhances order fulfillment speed.
c. Aisle Width Optimization: Determine the optimal aisle width for your facility to balance accessibility and storage density. Narrower aisles may increase storage capacity, while wider aisles improve accessibility and safety.
Efficient Inventory Management
Accurate and efficient inventory management is crucial for any warehouse. Implement the following practices to streamline your inventory processes:
a. ABC Analysis: Classify your inventory into categories (A, B, C) based on their importance and demand. This helps prioritize storage locations and picking sequences.
b. FIFO (First-In, First-Out) and LIFO (Last-In, First-Out): Depending on the nature of your products, implement FIFO or LIFO methods to reduce the risk of product obsolescence and ensure that older stock is sold or used first.
c. Inventory Tracking Systems: Invest in an advanced inventory tracking system, such as RFID or barcoding, to improve accuracy and real-time visibility of your inventory. This reduces errors and minimizes the risk of stockouts or overstock situations.
Racking Systems
Choosing the right racking system is essential for optimizing warehouse storage:
a. Selective Pallet Racking: This standard racking system allows easy access to individual pallets, making it ideal for businesses with a diverse product range and frequent inventory turnover.
b. Drive-In/Drive-Thru Racking: Ideal for high-density storage of similar products, drive-in and drive-thru racking systems maximize storage space by minimizing aisles.
c. Push-Back Racking: This system is suitable for businesses with limited space and a need for dynamic storage. It allows multiple pallets to be stored in each lane while still providing easy access to products.
Employee Training and Safety
Ensuring the safety and productivity of your warehouse employees is paramount. Provide comprehensive training and enforce safety protocols to minimize accidents and injuries. Encourage continuous improvement and engage employees in suggesting process enhancements.
Regular Maintenance and Optimization
Don't forget to regularly inspect and maintain your warehouse storage equipment and systems. Address issues promptly to prevent costly downtime. Additionally, periodically review your storage layout and processes to identify areas for improvement.
Conclusion
In the highly competitive world of warehousing and logistics, an efficiently managed warehouse storage facility can be a game-changer for your business. By implementing proper space utilization, efficient inventory management, the right racking systems, and focusing on employee safety and training, you can maximize efficiency and organization in your warehouse, ultimately boosting your company's bottom line and customer satisfaction. Remember that continuous improvement is key to staying ahead in this dynamic industry.
What's Your Reaction?